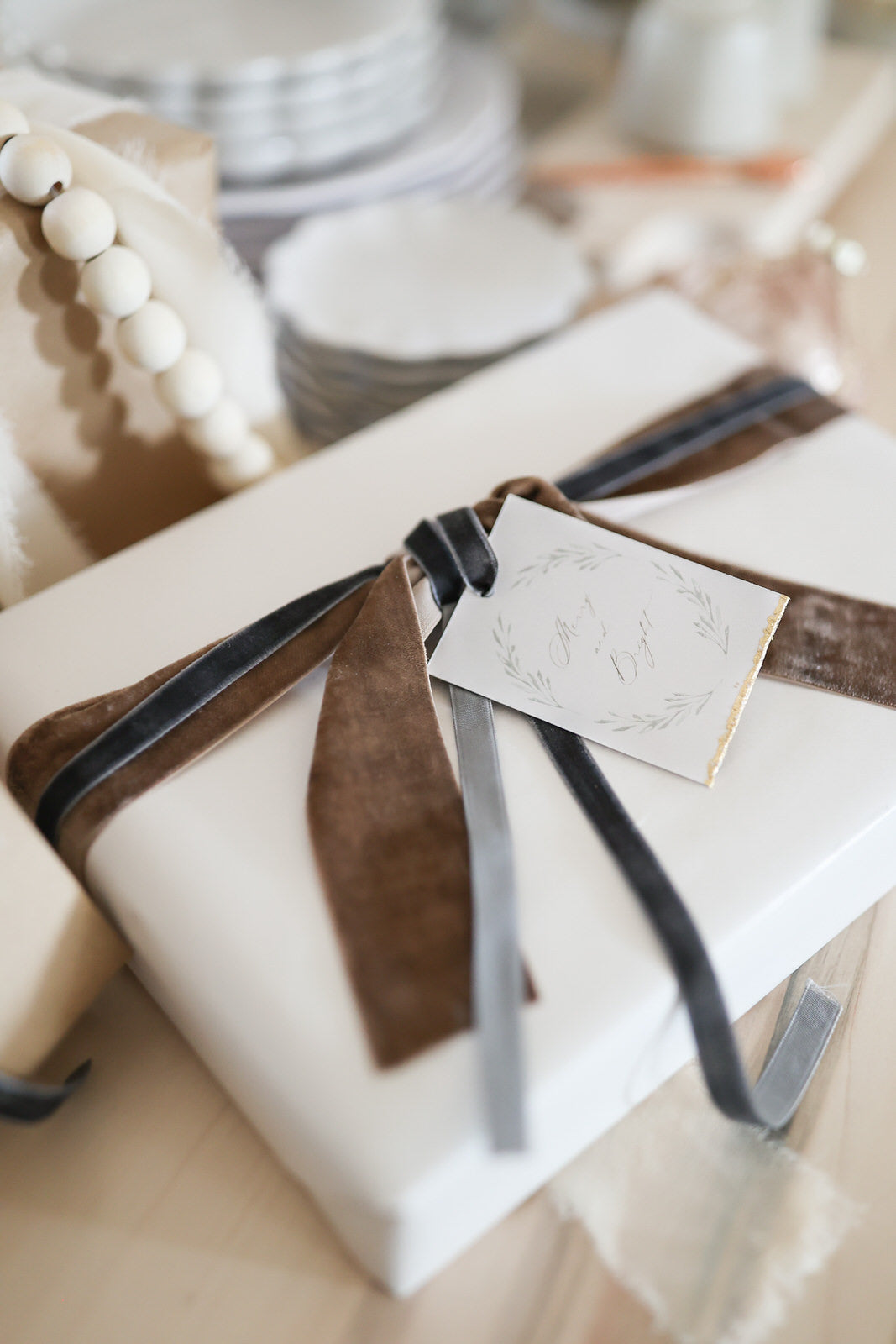 Christmas season is rapidly approaching, and while it might still be 6 weeks away, shipping deadlines are much sooner. 

We've created three gifts guides to help you with your shopping. This will include for her, for him and for the kids. Starting the season off with the Her gift guide, because guys as much as we love you, we know you can be last minute shoppers so we thought would be best if we gave you plenty of time to choose which gifts you want to buy on Dec 21st, heads up…some of these won't be available with 72 hours noticed.

We've broken it down into price categories to help with your selection, and within those categories you'll find sub categories that include our personal favourite pieces, local items we love and gifts you can quickly wrap up under the tree from amazon and other online boutiques.

Under $30

It can be hard to find a gift with meaning when you have a smaller budget, so here are a couple favourites under $30 dollars that are thoughtful without breaking the bank.  At Primrose our Heart Mug is the perfect size to keep your hands warm as you cozy up by the fireplace. If you don't have a fireplace in your home, you can make the same ambience with a candle from Land of daughters, a Metis + female founded company who's priority is to give back to the community, even while we're at home. The final detail to add to this cozy Christmas experience is a pair of fuzzy slippers. And for the ladies in your life who appreciate the delicate details, and who deserve something a little extra the Lisa Huggies from becdesigns are the perfect little hoop earrings that can be added to any outfit, including Christmas pjs.

Under $75

For the one who has it all, and who takes care of everyone it can be difficult to find creative and unique gifts for each lady in your life. We asked the women in our lives what's on their wishlist and here's what they came up with for gifts under $75. The Brass Candleholders from the Primrose shop were the most popular voted. The beautiful think about the candleholders we carry is they come in three different materials depending on personal style, Brass, Wood and Concrete.  The second item, is the Creamer pinch pot, created by Driftwood Pinch Pots especially for us, but they also have a wide range over on their website, from vases to salt and pepper sets. Another personal touch is a handmade sign from Inspired Findings, you can buy from her directly or find her in Twisted Goods stores. 


Under $100

We know there are always a couple of gifts under the tree, that aren't considered a surprise however we've curate a list of unexpected delights! Our Display Boards  are the perfect centrepiece for any room. With various shapes, sizes and stains we can find you the perfect match!

Shop Hunnis is a small shop in Langley, B.C that carries loads of cute styles from flow dresses to snuggly sweaters, and a personal recommendation is the Landon Mockneck. It comes in 3 different colours and is perfect for the winter season. It's not too thick so it can still be nicely layered, but not too thin that you need to bundle up. The perfect layering piece would be the Donavan Jacket!

As the weather get colder and snow days are bound to happen, why not give the ultimate kitchen essential, a Cast-Iron Dutch Oven. No one wants to spend their entire day prepping dinner, with this Dutch Oven, you can let the aroma fill the house as your soups, stews or casseroles slowly cook throughout the day.

Under $150
In every season there's always something worth celebrating, from Birthdays to Holidays, Christmas is no exception, why not put all your delicious treats and baking efforts on display and easy to share with our Cake Stand, with different heights and stains available this is the perfect way to bring everyone to the table.


Wishlist

Depending how you celebrate, sometimes the decision for one big gift rather than a few smaller ones is preferred, so our Wishlist selection is exactly that!
Is there anything better than waking up on Christmas morning than being able to enjoy a hot cup of coffee, and yes actually hot. As it's the one day a year, our kids aren't begging for our attention the moment we wake up! The Breville Barista Express Espresso Machine is worth the investment — and the perfect start to every morning.

Our JE Cookbook Stand, is the item we selected as the Primrose favourite, at $179 this gorgeous stand isn't simply to hold your cookbooks but can also be used as a charcuterie board for when guests come…or perhaps to leave milk & cookies out for a special arrival.

There's something special in the moments after all the Christmas presents are unwrapped when the ribbon and paper is scattered and everyone just sits together and snuggles up close to watch a movie. Cozy Throw makes the perfect blanket for everyone to sink into.

Hope you have a lovely Christmas season.

XO Karina