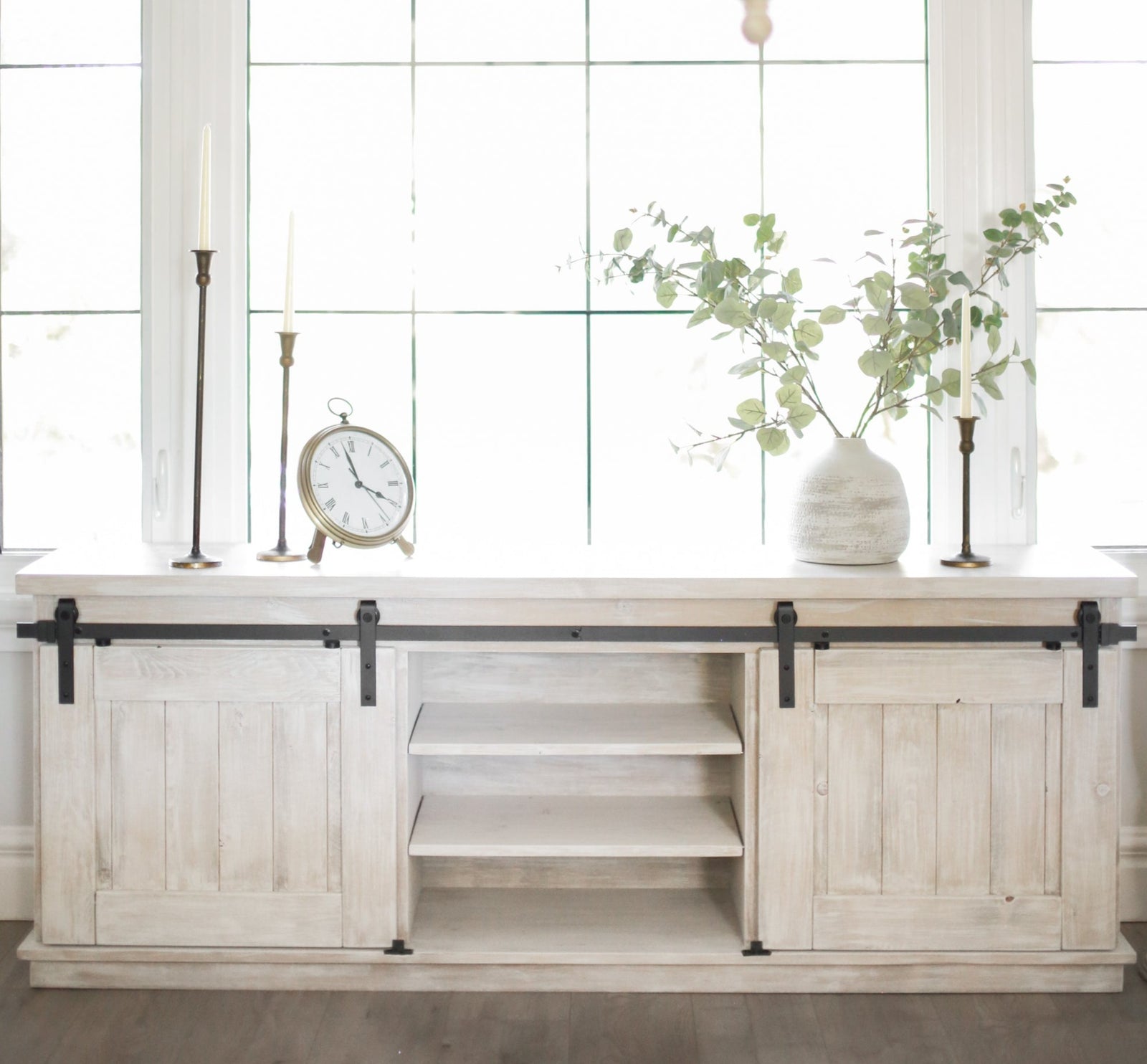 How to Decorate a Console Table In The Dining Room
If you are looking to incorporate extra surface space into your dining room– or perhaps you simply believe your dining room looks too barren and empty– a console table is a fantastic option. It can be used as a bar or can be decorated with some of your favourite pieces to add your own personal style and flair to the space. Console tables are especially great options for homeowners who need to maximize as much space as possible.
What Is a Console Table?
A console table is a narrow table that functions similarly to a side table. In a home, they are usually used in smaller spaces such as entryways or hallways, due to their size and shape. They also come in many colours, sizes, and finishes, making them very versatile options. It is believed that the console table was first introduced in 17th century France, where it was nothing more than a rectangular slab supported by wall-mounted brackets. Now, most console tables range between 30 and 36 inches in height and feature either a square or rectangular top. 
Where Should I Put My Console Table?

Console tables are wonderful space-saving options and can be used in any narrow space to provide more surface area without taking up too much square footage. Hallways, foyers, and entryways are some common settings for a console table. However, a console table can be incorporated into any space. Some use them in bedrooms or living rooms, for example. They can also be placed behind a sofa and topped with table lamps or television remotes. If space is especially important, a console table can double as a bar, a desk, or even a vanity! They can be as decorative (with decorative objects) or as functional as a homeowner prefers. 
Tips For Decorating Your Console Table
While your console table might not be a huge piece of furniture, it does also have a big impact on the rest of the room it is in. By leaving it bare, you pull the eye towards this table– which is not necessarily a good thing. Rather, you should use this extra space to decorate according to your personal tastes and to create a vignette. Read on for some great tips on how to decorate your console table and impress your guests with your interior decorating sense. 
Create a Cohesive Look
First and foremost, you will want to be sure that you create a cohesive look with the decorations you choose for your console table. If the decor you choose is haphazard and too mismatched, your console table will look messy and possibly cluttered. In order to avoid this, you should decorate your console table according to a theme or colour scheme. 
Choose An Anchor
Creating an anchor is another key part of successfully decorating your console table. An anchor is the large focal piece of your decorating scheme, where the eye will be drawn and is typically located in the middle. Whether this anchor is a large photo, sculptural piece, or a lamp, you will want to be sure you are clear on what this is so that you can build your decor around it. Otherwise, you run the risk of having too many focal points, or none at all.
Make Design Minimal
Depending on the design of your space, it may not make sense to have a busy or heavily decorated console table. Additionally, a cleanly decorated console table can avoid the potential of your decor being too mismatched so that it does not work together. If your space has a contemporary aesthetic, a minimal decorating theme is a way to go. Some of the ways to do this include choosing decor of sufficient scale so that the decorating looks neat and intentional. 
Go For the Contemporary Look
Typically, we and interior decorators would advise that you go for a symmetrical look when you are accessorizing a console table. Depending on the style of your home, however, it may make more sense to take a more contemporary approach. For example, if your space is more quirky, colourful, and bohemian, some carefully planned out asymmetry can look great! This is truly the more modern alternative. You do still want to ensure that your composition looks balanced, though. For example, experiment with grouping a sculptural piece, some wildflowers, and a statement lamp to create a composition that is still balanced, but feels a bit more modern and alive.
Match Materials and Mimic Shapes
If your console table is more unique in style, you can pull from some of its more eye-catching elements to inform your choice of decorative pieces.You could choose pieces that are made from similar materials, but in different shades, or choose pieces that mimic the shapes that are seen in the features of the table. For example, you could find decorative pieces that are round to accentuate the curved legs of a console table or pieces that are made from dark wood if your console table is made out of lighter bamboo wood. 
Look at the Lines
Choosing your console table is important, too, and can help you to create more interest in the space. Instead of gravitating to a console table with a more traditional look, you could try one that has curving or sweeping lines. You should then try to emulate this style, letting these lines continue into the decor with the addition of vases and other decorative elements that have the same shapes and materials. 
Keep Things Natural
Using gentle, natural colour schemes, as well as implementing natural decor pieces can really help to pull the decoration of your tabletop together. It can also help to present a soothing vibe. Organic colour and texture options are key here, and a great way to do this is to use pieces made out of wood or stone. Another way to do this is to place a natural accent on the table such as a potted plant or cut flowers. 
Add a Pair of Table Lamps
You should aim to create some semblance of symmetry with your console table decor so that you can create a sense of balance. Without balance, the eye may end up pulled in all different directions. One of the ways that you can achieve this balance is to choose a matching pair of table lamps to act as end caps, for example, on the tabletop. A pair of lamps can also be a great way to add differences in height to your display, which creates visual interest. 
Select Antiques
When you are looking for decorations, scour thrift shops and antique markets to find truly one-of-a-kind pieces. These can be used to create a great focal point for your console table. Using pre-loved vintage pieces also lends a different sort of vibe to a console table vignette. Rather than feeling shiny, new, and modern, it feels more warm, comfortable, and lived in. 
Display Some Art
A console table can be the perfect way to display some of your most treasured art pieces. These can be anything from pottery to sculpture to prints. If you prefer to display a flat piece of art, such as a painting, rather than sculpture or something that has its own base, you can also prop the art upon a small easel or with a wire photo holder. Another option is to place the artwork in a standing frame.
Frequently Asked Questions
Can you put a console table in the dining room?
Yes, you can certainly put a console table in your dining room area. They work best in narrow spaces, so are a great option as a functional, but a decorative way to save space in your dining room. They also do not need to be placed against a wall, though that is how console tables are commonly arranged in homes.
Typically an antique console will work better in the dining room because there is less daily traffic and more protection. They can also look more out of place in today's modern living rooms. When considering how to style a console table you also have to think of its location and the surrounding elements of the room. It is like when an interior designer puts the pieces together, you have to consider all of the elements and existing decore, not just the design objects on the console itself.
How do you style a console table?
Some of the key tips in styling a console table are as follows. First, you should create an anchor, which refers to the large, main focal point on your console table. Then, add height by incorporating decorations and items in varying sizes and heights. Styling a table in high, medium, and low heights are known as styling in threes and is common knowledge in the design world. 
What can I put on a console table?
Console tables can be used for decoration, or as a place for keeping important items related to the space that they are in. Some of the things you can put on a console table are table lamps, decorative displays, picture frames, or artwork. 
How do you accessorize a console table?
You should choose decorations and pieces for the console table based on the space that the table will inhabit. For example, if your console table is placed in the living room, you could accessorize with a table lamp, tasteful artwork that matches the space, a few books, or framed family photos– or some combination of all of these!
Other Ideas for Accessorizing
Wall Art
Large Round Mirror
Display Art
Framed Art
Statement Lamp
Fresh Flowers
Tall Vase
Faux Plants
Real Plants
Small Bowl - Or large bowl