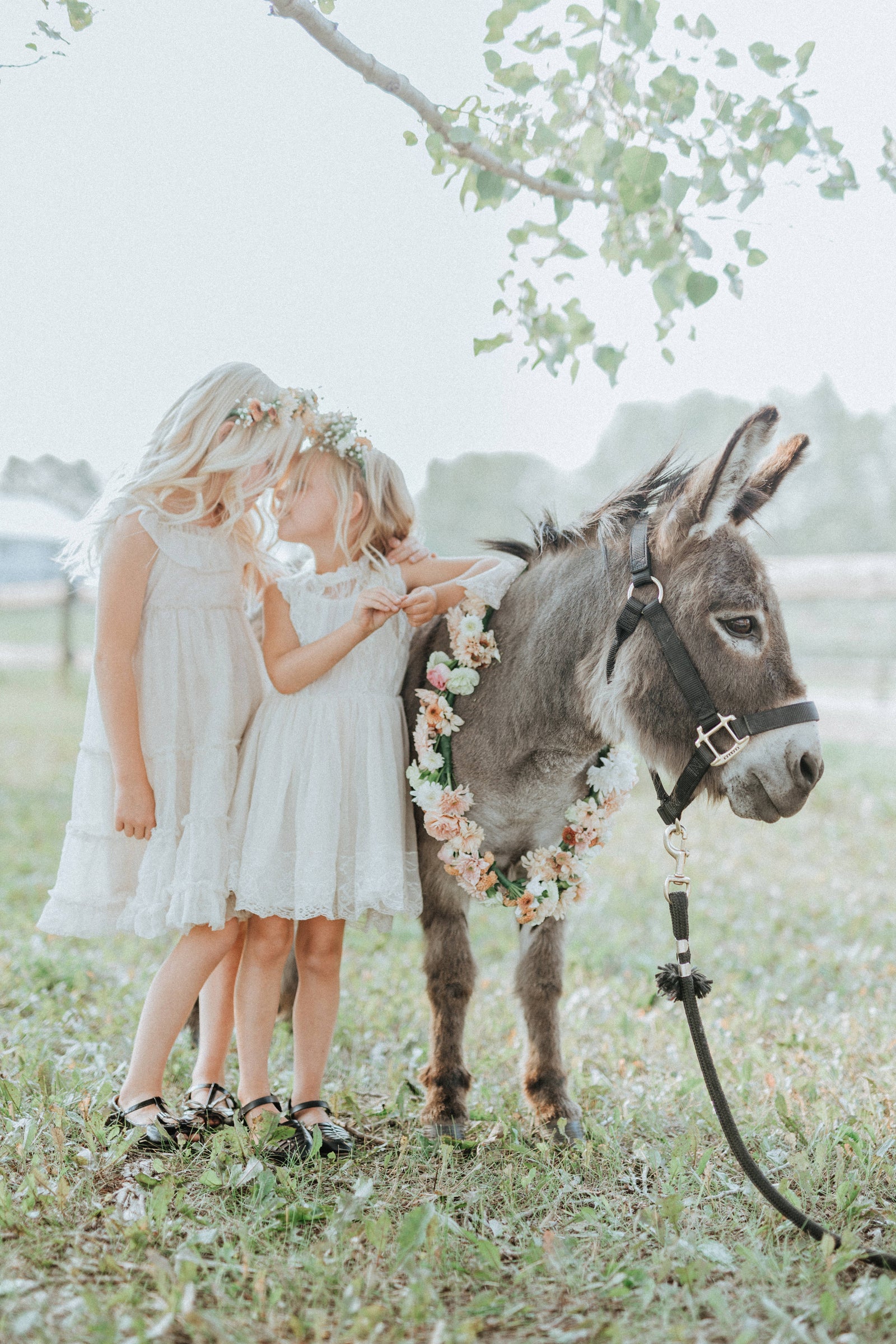 I love birthdays and special events but as a mother to 5 kids, it is a challenge to plan 5 unique parties a year.  I have realized through the years that it works best to rotate which kids get the more specialized party each year. Last year we did a special Secret Garden party for Sienna. This year I decided it was Ivory and Scarlett's turn for an extra special party. Because of all our animals I thought it would be so fun to try and come up with a boho petting zoo set up. Although my mind could go wild with ideas, I knew I needed some help bringing the party together. I had met Brooke from Simply T Events at a winter styled shoot we were both a part of, we hit it off and and I knew when it was time, she was the person for the job. 
When you first start dreaming up an event, it's fun, and doesn't feel like that big a job... but when you actually start putting all the pieces together you realize it is a lot. I knew I couldn't handle doing it myself, and having Brooke in charge of everything was the hugest blessing. She even did the florals! I basically gave her my basic ideas for the theme and which Primrose pieces we could maybe use for the party and she ran with it. She made a mood board to make sure the colours were on brand for us, and was able to find vendors that were a good fit for the event. I was able to leave everything in her hands, and just make sure the kids all showed up :)
The girls faces when they came around the corner to see their birthday set up was so priceless. The cake from Ginger and Spice was a showstopper, I love working with Carla as she always puts her heart into her incredible desserts! She is an artist. 
The cookies from Gold Box Bakery had all the little girls staring, they were all wanting to eat them before the party had even officially started! 
When chatting with Brooke about what food the kids would like, we realized that doing a kid friendly charcuterie set up would be ideal. Kids can be picky but it does seem like most kids love bread, cheese and finger foods! Johnny + Glo provided the cutest board for the kids to enjoy with the cheese cut into cute shapes, and meats shaped like flowers. The kids loved it. 
While we were able to provide most of our own Primrose furniture and accessories for the party, Bohosy Rentals were able to fill in the gaps, really making the set up complete. Can you even handle those cute wicker chairs? 
The party was definitely a hit, and I couldn't be more pleased. Most importantly the girls felt special. Scarlett and Ivory are so loved, and that is the biggest blessing a mom could ask for. 
Thank again to the incredible team that pulled this off! 
Photographer- Kristy-Anne Swart
Planning & Styling - Simply T Events 
Custom Wood Furnishings - Primrose 
Bohemian Furniture - Bohosy Rentals
Charcuterie - Johnny + Glo
Custom Cookies - Gold Box Bakery
Custom Cake - Ginger And Spice Bakery
Florals - Simply T Events
Kids Clothing - Oakley Rae Handmade + Simply Adored Children's Co