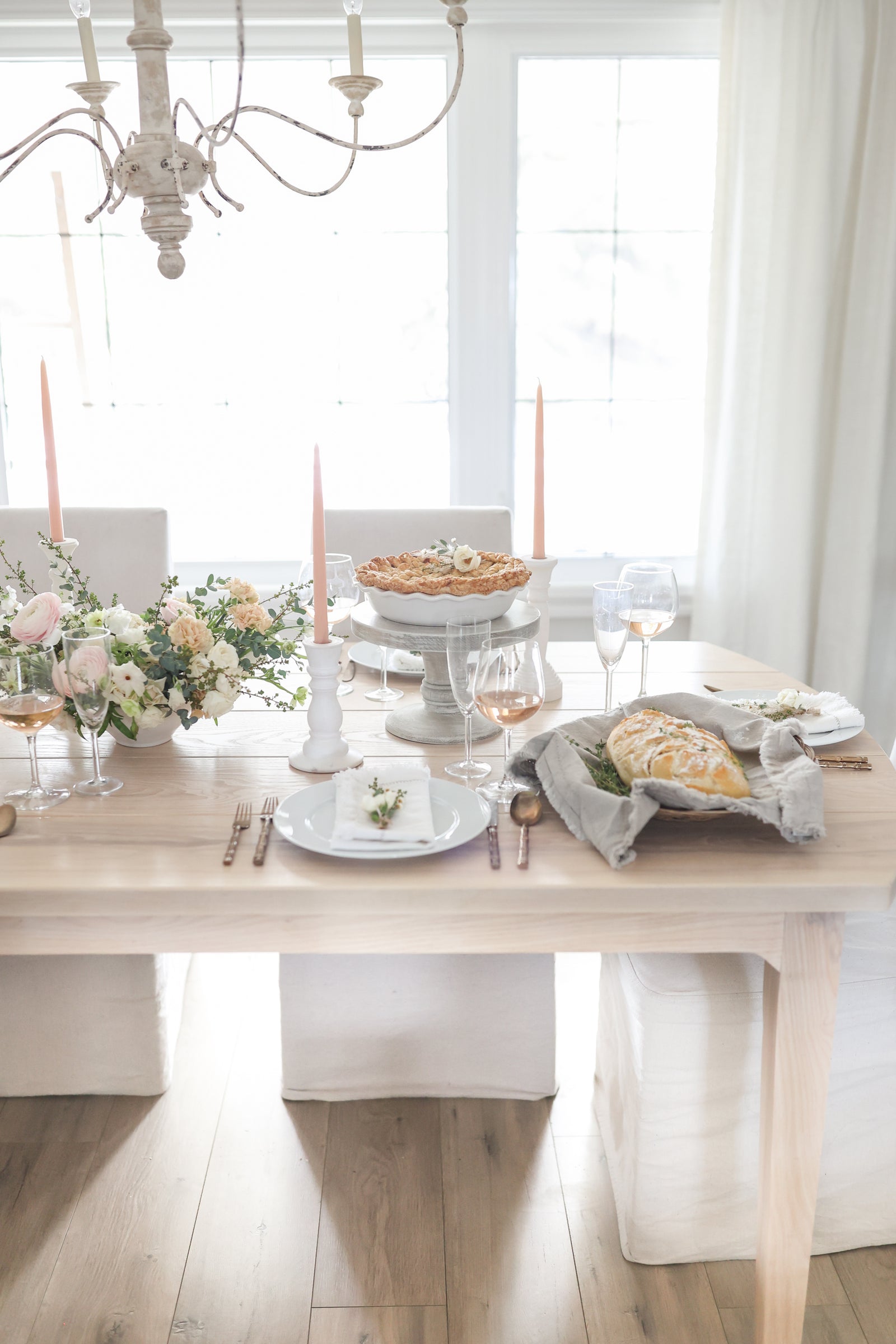 Easter is nearly here and I am reflecting on how grateful I am for my "living hope" (1 Peter 1:3). I look forward to celebrating Easter with my family next week, and enjoying some down time. Sunday is typically the day we do most of our Easter festivities, going to church, having a big meal, and the beloved Easter hunt. Jamie and I are very tricky Easter bunnies, so we will be hiding the eggs on the kids all over the farm. We don't like to make it easy for them and  enjoy watching them run all over the place.
We will do our big dinner on Sunday, and as I have been trying to make a plan for the day, I realized that I don't know if there is a standard meal people make for Easter. For thanksgiving, most people tend to turkey. I realized we have done different foods each year. I am wondering if other families have a typical meal they make, or are like me, with no set meal? The more I thought about it, the more I realized I don't care about what we eat. What I do care about is that we savour the moments gathered around the table, taking time to remember how much we love another and to reflect on our faith. 
That being said, regardless of what we eat, I do love making the table an inviting place to be, and I so enjoy making it pretty. So many of our Primrose pieces work so well together, and makes table settings come together so quickly! We recently did a photoshoot of a spring tablescape to capture some of our new pieces. I thought it might be helpful to walk you through how we used the pieces to make a quick, easy and beautiful set up.
Now of course, it goes without saying that the table itself is the start of a beautiful tablescape. We were lucky enough to use this brand new Fairlight table in White Ash for our photoshoot. This table is not available for purchase yet as we are working on developing a few more pieces for the line before we release it. I have no doubt this will be a new fan favourite. 
 I think the star of our tablescape were the new Antoinette candler holders. In the past I had a hard time finding candles in colours I liked, so I eventually sourced some that I love. The candlesticks are delicate and the most perfect shades, they will be available to purchase now.
In my opinion no dinner is complete without dessert, I love my sweets, but also they always look pretty sitting on top of our cake stand. This pie was made by Sarah of Blue Dahlia Pie Company 
Another easy way to add interest and polish to a table is using cloth napkins, I love the ivory tone our of our Primrose ones, 
We did a set up with florals on top of the napkins, but also using our napkin rings as holders for the eggs we had decorated. If you want to read the blog post on how to make those eggs yourself, click here.  
When I want to dress up the table I bring out my gold cutlery. I love it so much, and am so proud that it was purchased at a thrift store, so they really are vintage. I love being able to pair some vintage items with the newer pieces, I think it gives the whole effect more visual interest.
 I try to vary some textures throughout, using linens to soften up the look. One of my favourite new items we have brought in is our gold leaf tongs, they are just so delicate. 
I wanted to mention that florals will always take things to the next level. We were lucky to work with florals from Meadow and Vine on this project. I adored the little pieces she made for  each table setting. Even if you don't have the budget to get florals brought in, you can even just use some greenery, or some simple florals from a grocery store. I feel it's in the florals that everything comes together, and that you can express your personal style. 
I know that gatherings are different then they once were, but I love having charcuterie boards out for the holidays, as it's fun to graze on them throughout the day. For Easter I thought it would be a fun challenge to come up with a themed treat board, on our Prairie Wood Board.  I picked a neutral colour palette, and tried to find as much sweets within the palette. Blue Dahlia Pie Company provided most of the custom treats on the board, including my favourite, French Macarons. When planning a board think about ways you can add a variety of texture to add interest to the overall presentation. We used some florals and babies breath to bring the whole thing together. I loved how it turned out, and my kids were thrilled to get to enjoy all the delicious treats. 
I hope you find this post helpful as you plan out your next special dinner. 
Happy Easter friends,
XO Karina
Team:
Creative Assistant: Jackie MacKelvie 
Florals: Meadow & Vine 
Photography: Kristy-Anne Swart 
Desserts: Blue Dahlia Pie Company