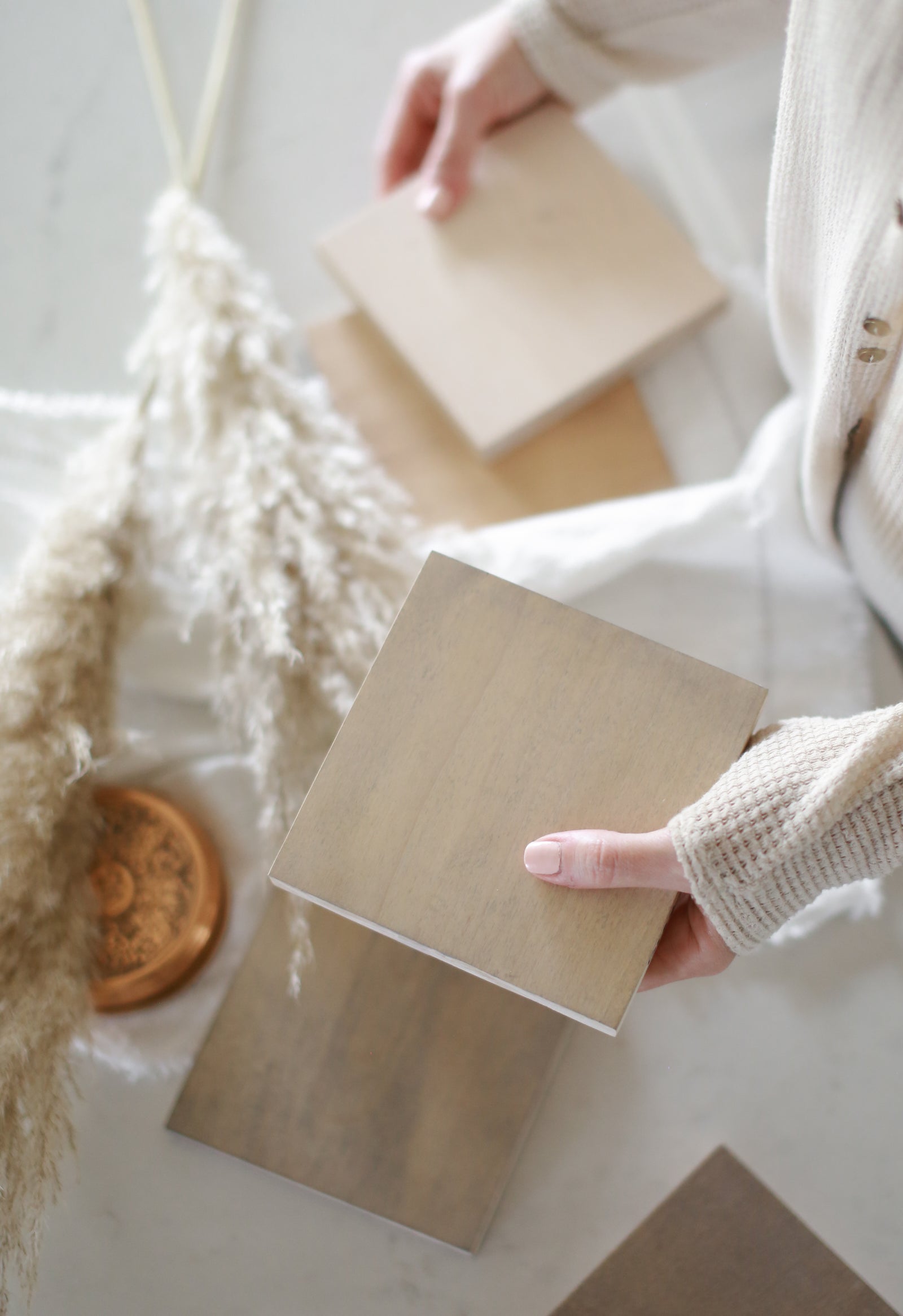 We are working on a whole new website which involves improving your shopping experience. One of the issues we have had in the past involves our stains. Depending on the grain pattern, the type of wood, the application of the stain and the actual stain itself, pieces can come out looking slightly inconsistent. Pieces also look different depending on the light in your home, vs the light in our home. We know it can be difficult to decide on which stain to choose for your pieces especially when you can't see them in person, but we want to help make the process easier. 
We decided that with this whole rebrand it was time to go through all our stains, and eliminate some, and modify others. All with the intention of making them all a bit more consistent, and to also remove stains that look too similar. Because we will be changing up the stains, if you have been planning to order a specific piece in a particular colour, we recommend ordering it now. The stain changes will be coming into effect on May 1st when the new website launches.  
April 26th is your last day to shop using our original stains.  Some of our items will be discontinued as well, our website will be down for a few days until our NEW website will officially be launched May 1st!  
One thing we considered when changing all of this was how the stains adhere to different types of wood. For instance, our weathered oak stain looks completely different on maple, ash and pine, because it soaks in differently. So we took the time to make samples for each of the types of wood we use, and choosing the tones we thought worked best for the different materials. 
First off I will start with our Pine stains, as pine is the standard wood we use for our pieces and thus has the most stains. One big change is we have eliminated chestnut and replaced it with a similar colour we call honey. We have also eliminated Beachwood, Weathered Oak and Jacobean as they were very difficult colours to keep consistent. We replaced Weathered Oak with a colour we called London fog, it is creamier and beautifully soft.  We felt like Ebony and Espresso were too similar, so we took away both and introduced Ember which fits kind of perfectly between those two tones. Walnut is now deeper in tone, and we think you will love it's new look.  If you have any questions on how to select a colour to match up with one of your past pieces, feel free to reach out. 
Another decision we have made was to rework our distresses. We now have three options, and they basically vary in intensity. For Washed stone we only add a hint of distressing, whitening up the edges to give it a very unique and subtle look. Rustic Barnwood has evolved through the years, but we have worked hard to find it's perfect sweet spot. Driftwood is basically a heavier application of Rustic Barnwood, it takes time and precision to get it applied right, but the final result is so beautiful. 
Now onto Maple stains! Maple is a much harder wood and thus effects how the stains soak in. We have decided to limit the tones we will offer, limiting them to the ones we think enhance this woods beauty. 
Last but not least, I want to introduce you to our Ash stains. Ash would has an incredibly beautiful grain style, we found only a few of the stains did it justice. Ash wood is limited and exclusive so we decided to keep these stains very curated. 
We hope this post is helpful, and makes it easier to decide on your stain choice for future pieces. You are also able to request stain samples, which can also make selecting the perfect tone easier. Please don't hesitate to reach out, we are here to help!