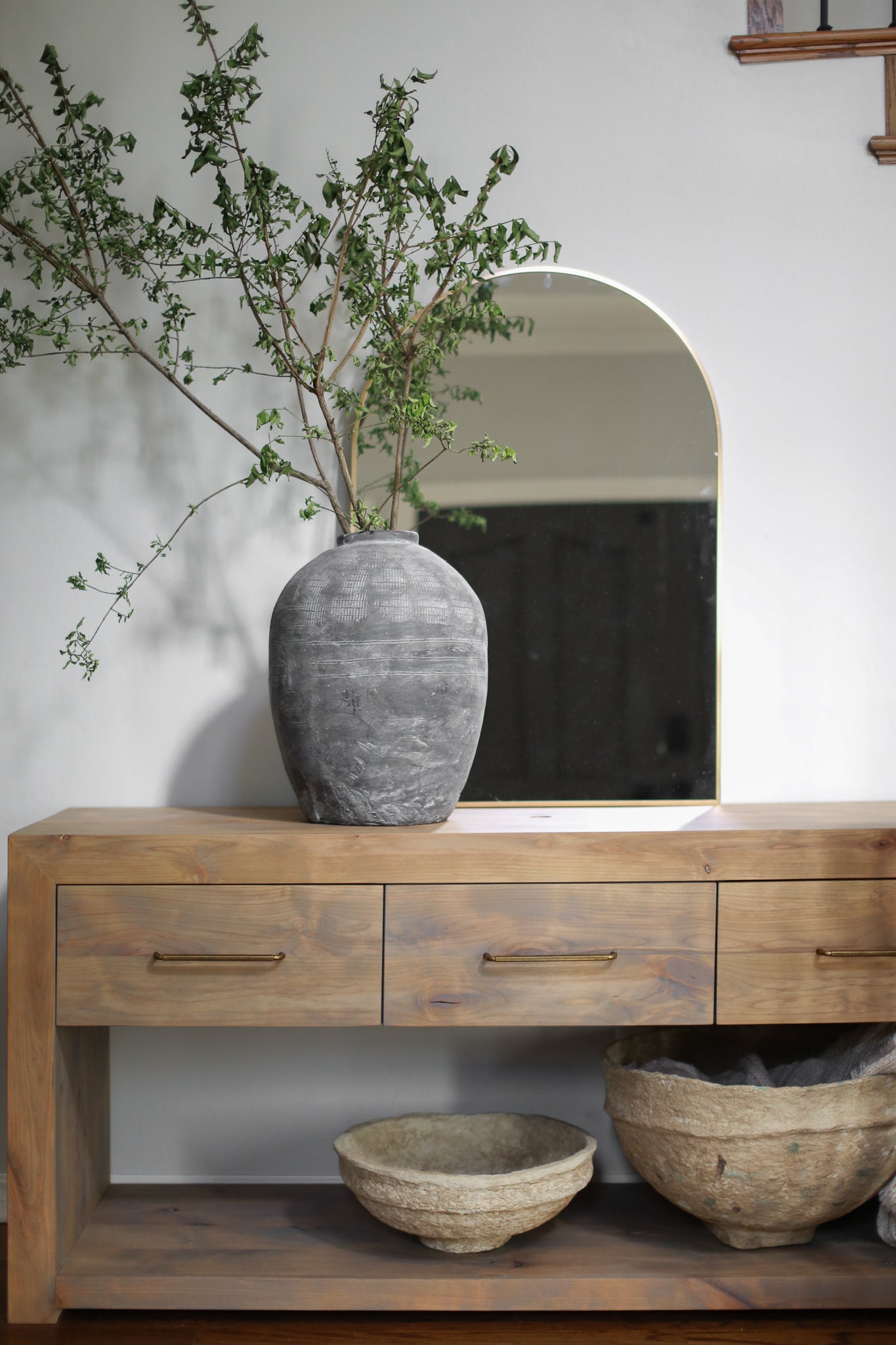 Entryway Console Table Decor Ideas
A console table can be a fantastic addition to the entryway or foyer of your home. These types of tables are designed especially to fit into narrow or highly trafficked spaces and offer both visual appeal and extra tabletop space. While you can put a console table in any space, they were originally intended for entryways, which is why they work so well in the entryways of modern homes, too. Read on for plenty of style tips for decorating your own home's entryway console table. 
Use a Mirror
Traditional console tables were used to showcase a mirror in a home's foyer or entryway, and it is still a great decor option today. Mirrors can trick the mind and make your narrow entryway appear more spacious. Then, from a practical standpoint, a mirror in the entryway can also be helpful as you give yourself the final once-over before leaving the house. Mirrors are a simple but stylish decorating tool, where you can infuse style into your space but still keep it as minimal or ornate as you'd like. You can choose to either mount your mirror on the wall above your table or place it on the tabletop itself. 
Create a Drop Zone
When a console table is placed in a hallway or entryway, it naturally becomes a place where you drop certain items– like your keys or sunglasses, for instance. Lean into this and decorate your console table so that there is a designated drop zone for certain items.
After all, your console table is, first and foremost, a practical and functional piece. One way that you can create this designated drop zone is to find a small, aesthetically pleasing bowl where you can place your keys or other items when walking in the door. You could also opt for an acrylic tray– they come in many different colours and designs– where you can place keys and other larger items, like mail or your wallet. 
Add a Rug
Placing an area rug in front of or underneath your console table can help to ground that space. It can assist with compartmentalizing the console table area and can separate it from the rest of the space in the entryway. Your rug can help to draw the eye to the console table you have worked so hard to curate– especially if you choose an eye-catching colour or print. Rugs come in all sorts of sizes, shapes, colours, and prints, so you will be able to easily find one that matches your design aesthetic. 
When you select your rug, you should also take into account where you are placing it. Since it is in the entryway, which is a high-traffic area, you should look for an option that is durable and will not wear or stain easily. 
Pay Attention to Balance
As with decorating any space, balance is key here. If your console table decor is not curated with balance in mind, it can wind up looking cluttered, mismatched, or otherwise not quite right. That being said, balance does not mean you need everything to be the same. For instance, you do not want to have a row of vases that all have the same height or weight to them, because this looks odd and there is no visual interest! Rather, you want to balance pieces of different weights and sizes in your tabletop decor. An example of this is to put one larger item on one side– such as a sculptural piece– and then balance it out with two smaller pieces on the other side– like a ring dish and a bud vase. 
Shop The Design:  
Darlana Lantern, 
Lawrence Ceramic Lamp
, 
Montgomery Console Table
, 
Charleston Handwoven Basket
, 
Lacis Damask Rug
, 
Charcoal IV Forrest & Hills Framed Paper
, 
Green Plains Framed Wall Art
, 
Marble Links
, 
Artisan Vase
, 
Corey Arch Wall Mirror
, 
Faux Oversized Silver Dollar Eucalyptus Branch
Consider Height

This design element is similar to balance in interior decorating. Taking into account the height of your decorations– and in turn, ensuring you vary their heights– can help you to make your design more cohesive. A common rule of thumb for decorators is the three-layer approach– low, medium, and high. You should include pieces of all three heights, rather than items that only fall into one of the categories. For example, you could opt to use a tall vase, with a medium-height stack of books and a low ring dish or acrylic tray.
You should also mix the items of varying heights instead of pairing like heights together so that your decor looks more natural and lived in. Height is also key in achieving balance in your design.
Stick to Minimalism
With such limited tabletop space, it is easy to make a console table appear cluttered or messy. This is why it may be wise to go for a minimalist look when deciding how you will decorate this piece of furniture. As mentioned previously, when you have a console table in an entryway, it will likely– intentionally or unintentionally– become a drop zone for everyday items like your car keys or the mail.
This can then make a cluttered console table seem even messier. Typically, in this situation, less is more. You should choose only a few intentional pieces to decorate your tabletop with, and go for minimalist artwork or subdued colour palettes to avoid overwhelming the eye.
Implement Thoughtful Finishing Touches
Once you are wrapping up your console table design, you will want to consider your finishing touches. This will help you to polish your setup and add some depth. You can take a look at the design you have already created and pull finishing touches based on that.
For example, you could choose to be inspired by your colour palette and accent the decor with a bud vase of fresh wildflowers in a coordinating colour– or a contrasting colour for an extra pop! You could also include a carefully placed coffee table book on ceramics if you've used sculptural art pieces in your decor. Your finishing touches are where you are able to accent your console table decor and even add in some artistic moments. 
Frequently Asked Questions
How do you style an entryway console?
An entryway console table is one of the first things you or a guest see when walking in the door, so it is important to make a good impression! Style it as an extension of the rest of the house, with a similar design aesthetic or color palette. Some of the important things to consider when choosing decorations are the purpose of the console table and its placement in the entryway. Some more styling tips are below: 
Hang a mirror
Add a drop zone for belongings
Choose an area rug
Choose balanced decor pieces
Consider the height of your decorations
Take a minimalist approach 
Finish up with thoughtful and intentional final touches
What do you put on a console table?
There are plenty of things that you can put on a console table, from art to greenery! Your console table's location in the space– as well as which room of the house it may be in– can affect what you put on your console table. For example, if you have placed a console table in your dining area, you may be planning to use it as a bar area.
You could top it with an acrylic tray that you could contain and organize your drinkware atop, or with bottles of liquor or a decanter. In general, you could put items such as lighting options, books, bouquets, or dishes to collect your keys or the mail, for example. 
What do you put above an entryway table?
Entryway console tables are typically pushed against the wall, so you can utilize the wall space in your design, too. There are several things that you could mount on the wall above an entryway table. For instance, if your entryway is not well lit, but you do not want a table lamp on your tabletop, you could mount lighting options or wall sconces.
You could also put a mirror or some artwork or family photos above the console table, depending on the design aesthetic that you are aiming for. Since console tables are usually where you place items like mail or keys when coming in the door, you could also mount a mail organizer or a key hook here to save tabletop space.
What should I put in my entryway?
Functional pieces are key for entryway spaces. For example, a shoe rack, coat rack, or a bench with hooks for coats or bags can all be great additions to an entryway. Another piece that you can add to an entryway is a console table. These are both decorative and functional, as they can serve as catchall spaces for important everyday items like wallets or keys before you walk out the door, or when you enter your home at the end of the day.