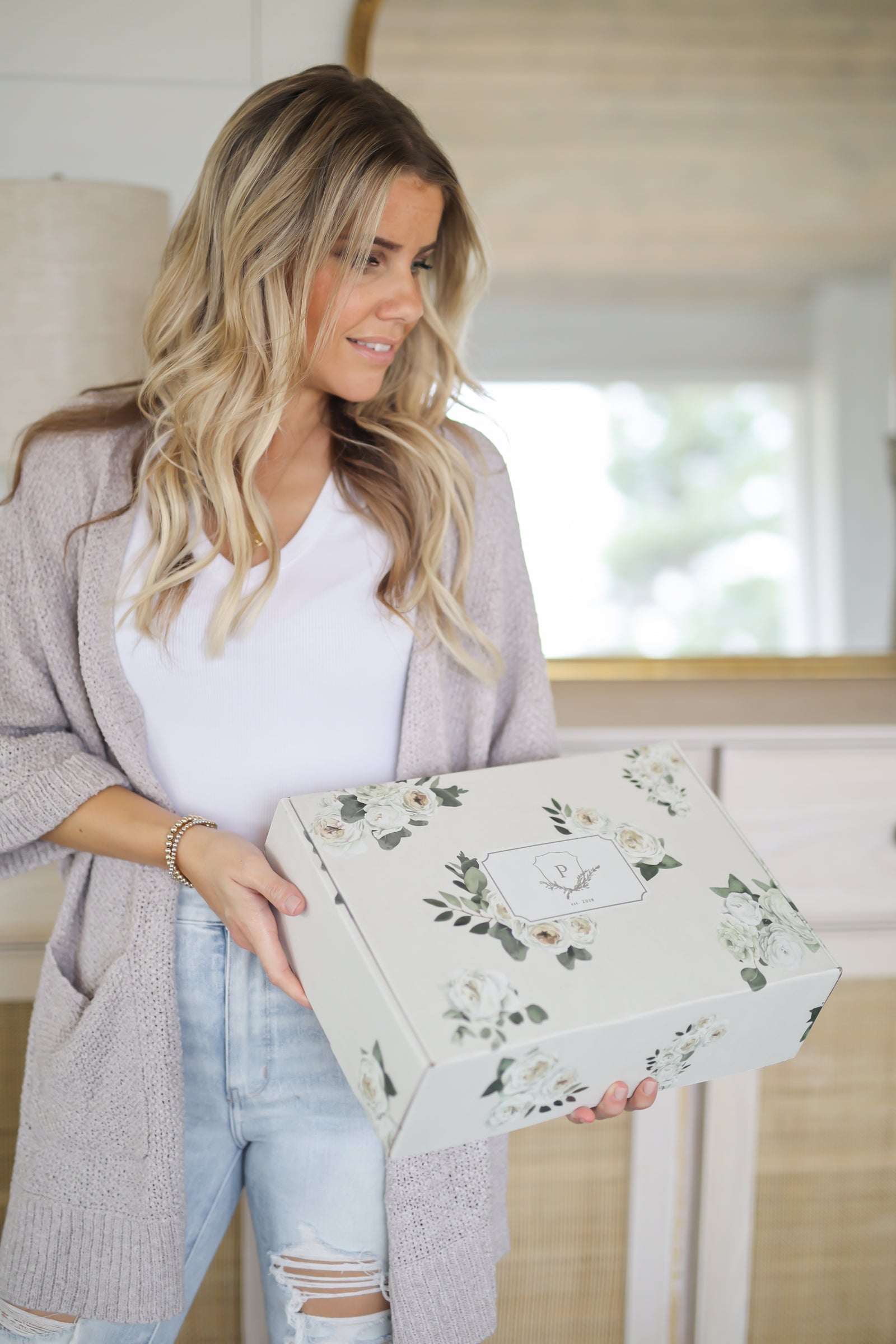 It's been hard to keep this box quiet, I've been wanting to share the contents for so long! The boxes have been shipped, and most have been picked up, so I figured it was safe to reveal all the treasures we pieced together.  I wanted this box to feel more sophisticated than our other boxes, including the exterior of the box.  I am  thankful to Tara from 2AM Illustrations for making the outside design look as pretty as all the contents that were inside. 
The first item I knew I wanted in the box was this beautiful one-size-fits-all Cardigan from My Girlfriends Closet.  I already owned this piece and loved it so much, and found it such a versatile cardigan that I figured you all would love it too!   It's soft, easy to wear and really goes with everything! 
We were so excited this time around to be able to have a jewelry item from Alayne  from Apostle Boutique. We have wanted to work with her for so long, so it was excited this box made it a reality. I wanted something elegant and understated and this earrings are just that. 
Jackie from Florescence  had the brilliant idea of making these gorgeous mini dried flower bouquets. They add so much beauty to the box, and we are sure they will add some prettiness to your homes. 
Lamb's Soapwork is a family owned business from Airdrie. We were excited to team up with them for these London Fog soaps that smell gorgeous and are also naturally good for your skin.
I really feel you can never have too many candles, especially as we go into the cooler months. This candle from AuraTae is such  cute size, the candle has rose quartz stones in it, and is housed in lovely decorative glass.  The scent is Maple Cinnamon Vanilla, so appropriate for fall!  
Last but not least is our Primrose Mini Ash Charcuterie Board. I love this size for everyday, or setting out a smaller spread of cheese and crackers. The distressed wood, and soft white Ash stain is stunning. I have been wanting to put a charcuterie board in a Primrose box since we began them, and was excited to see it happen this time around. I really really love this piece, and I hope you get so much use out of it. 
I would love to see photos of your pieces being used, or styled at home. Use the hashtag #primrosefallbox or#primrosebox so I can follow along. 
Gratefully,
Karina XO