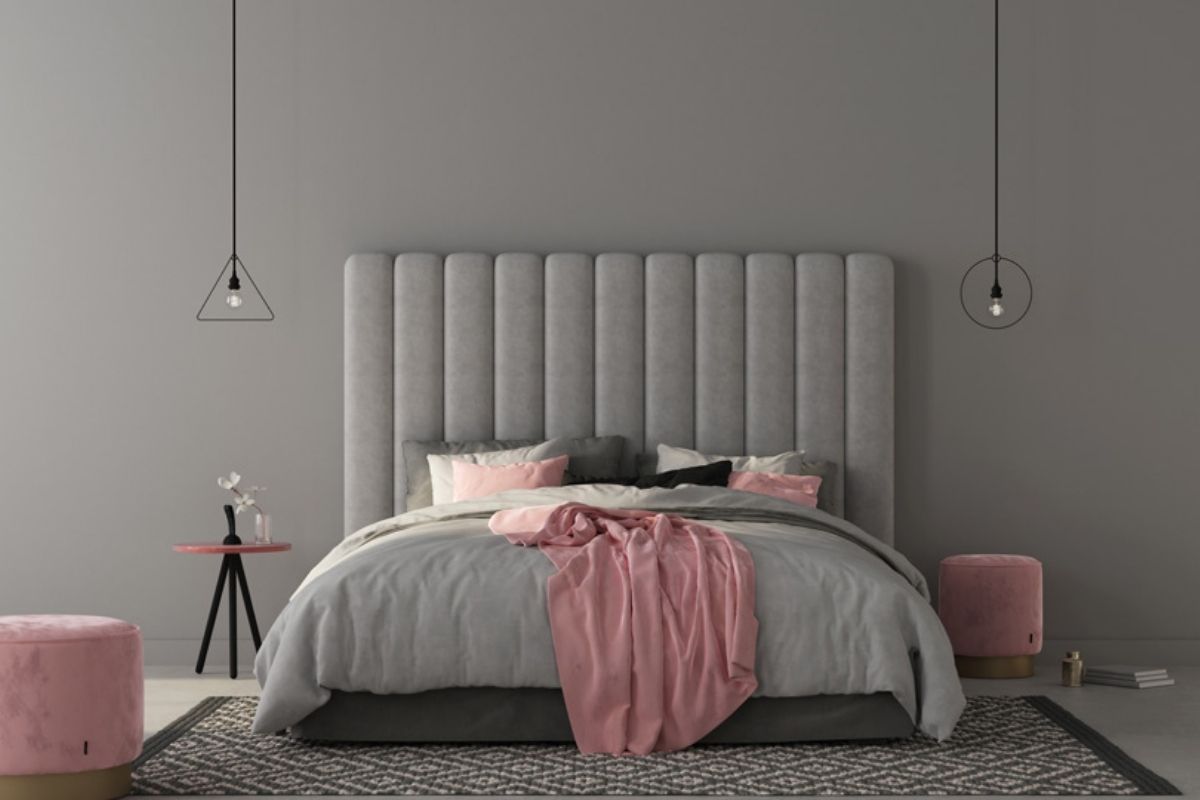 What Size Rug Do I Need for My Bedroom
Rugs are great ways to cushion a space, especially a bedroom, as well as to add warmth, personality, and aesthetic flair. They have additional functions in protecting your floors from scratches and your feet from cold floors! When choosing a rug for your bedroom, it is important to take into consideration factors such as the size of your bed and the square footage of the room itself, in order to find a rug that fits nicely within the allotted space.
 Otherwise, you may find that the rug does not look right– it is either dwarfed by the bed or too big for the room.
 Read on for more information on rugs and beds of all sizes. 
What Size Rug Do I Need for a King Bed
When it comes to the best size rug to frame a king size bed, there are a few different rug options that would work. A king bed is 80 inches long by 76 inches wide, so you will need to choose a rug that is larger than these dimensions. While you can choose a rug that is smaller than your bed, it looks best when your rug is larger than the bed and can extend past its borders. 
One of the best options is a 9x12 foot rug, which is also one of the largest rug options that work with a king-size bed.
It should be noted whether or not this size rug will work in your bedroom before you make a purchase, however. Take into account the shape and size of your room– if the bedroom is irregularly shaped, it may not accommodate a rug of this size. A 9x12 foot rug is large enough that it can center not only your bed but also another piece of furniture or two.
For example, you could fit your bed and a nightstand on either side of the bed on top of a 9x12 rug. You should try to leave a few feet of the empty floor at the foot of the rug, between the end of the rug and the walls. This will keep your rug from dwarfing the space. 
Another great option for a king-size bed is an 8x10 foot rug. Of course, these are a bit smaller than the previous option and can be a better fit for a smaller or more unusually shaped space.
Due to this difference in size, an 8x10 rug will also show less of its sides when placed under a king size bed. For long rooms, this size rug can be placed vertically, and for wider rooms, it works well horizontally. 
What Size Rug Do I Need for a Queen Bed
A queen bed measures 80 inches long by 60 inches wide. It is large enough that two people can sleep comfortably in it, while leaving more floor space in the room than with the larger king bed option. As with king-size beds, there is no single answer for the best size rug for a queen-size bed. Several different rug sizes will do, but some of them do work better with this type of bed than others.
This, like the king, will be a large rug, and if you are looking at proper rug placement getting the right rug size is key. As it will be a larger rug you'll need to make sure you have room at the foot of the bed, and on the sides of the bed.
Like with a king-size bed, you could place a 9x12 or 8x10 foot rug under a queen bed, since the size jump between the dimensions of the two beds is not too great.
This does still depend on the size of the room itself, though. If your room is smaller, and this is the reason that you chose a queen-sized bed rather than a king-size bed, rugs of these sizes may not be your best bet.
They will likely not fit in the room, or if they do fit, will not look quite right in the space. It is important in interior decorating that you get your proportions right. If you do use either a 9x12 or 8x10 foot rug, you should be able to center some furniture on the rug, too, such as nightstands or an ottoman. 
If you have a standard-sized bedroom, a 6x9 foot rug is one of the largest and best options for a queen-sized bed. Unlike with some of the larger options for a king-sized bed, you will not be able to fit your nightstands on either side of the bed.
However, you should still have a good foot or so– about fourteen inches– underfoot on each side. 
What Size Rug Do I Need for a Double Bed
When it comes to a double bed, this option is 54 inches wide by 75 inches long. It is not as wide as a king or queen mattress and does not sleep two as comfortably as these larger options.
You may have heard of a double bed referred to as a full bed, but do not be confused. These two terms are used interchangeably to describe the same mattress option.
Some of the rug size options for double beds are as follows, and it is important to note that the bigger options that work for king and queen-sized beds may dwarf your double bed.
A 6x9 foot rug can not only work for a queen-sized bed, but for a double bed as well!
Of course, it will be covered less by a double bed than it would be by a queen-sized bed, allowing for more rug to be visible. Since a double bed is both lesser in length and in width, the additional space that is afforded by this can accommodate additional bedroom furniture, like a nightstand or bench at the foot of the bed. 
Another great option for a double bed is a 5x8 foot area rug. This rug can be placed either horizontally or vertically, though it typically looks best when situated vertically.
A 5x8 foot rug will not be able to encompass the bed completely, but it can still fit about the bottom two-thirds of the bed, with a bit of extra rug space at the foot of the bed. This can actually look very nice in a space, especially if the bare areas by the foot of the bed are anchored by nightstands or floor lamps, for example. 
What Size Rug Do I Need for a Single Bed
A single bed is the smallest mattress option, measuring 30 inches wide by 75 inches long. It is not well suited for more than one person to share, but because of its small size, it can be easier– and cheaper– to find a rug that coordinates well.
After all, the larger the rug, the more expensive it typically is. You can choose to select a rug that is large enough to center the bed on, or choose a slightly smaller rug that will fit half or two-thirds of the bed. If your room is small, a single bed can be perfect for you.
You should be sure to remember the size of your room when you are selecting rugs, however, so that you do not end up purchasing a rug that does not work within the constraints of your room. 
A 5x8 or 4x6 foot-long area rug is often the perfect size when dealing with a single bed.
Just like with a double bed, a rug of this size will only encompass around two-thirds of the bed. If you do choose a rug that does not fit the entire bed, you can incorporate this as a stylistic choice by allowing it to frame furniture, a statement wall, or a unique headboard.
With a smaller bedroom, it can actually be a good idea to choose a rug that fills up almost all of the floor space. You should still be sure to leave about two to five inches of bare floor between the walls and the edges of the rug, in order to avoid a feeling of claustrophobia in your room decor.
When Choosing a Rug
If you are choosing a large area rug, it is wise to stay away from bold patterns or colours, and instead look for an option with a more neutral design or colour scheme. Busy patterns on a large rug can be overwhelming and can also make a space look smaller.
Square or rectangular rugs are the most common options, but you could also opt for an option such as a long runner, or around or oval rug instead! All of these options come in different sizes, lengths, and widths, and can be placed under a bed regardless of its size.
An upscale, elegant statement maker in a variety of neutral colours.
Rug Placement
There is more than one way that you can place a rug underneath your bed, depending on the size and style of the rug that you have chosen. The size and design of the room itself may also affect how you place the rug in the space. You can choose to place the rug horizontally or vertically, or also on the side of the bed, rather than underneath it. 
Most people choose to place a rug horizontally so that half of the bed is on one end of the length of the rug. With a vertical placement, more carpet extends out of the bed's landing pad and can accommodate furniture pieces such as benches or ottomans.
If your bed is situated with one side against the wall, you will likely want to place the carpet on its free side– placing it horizontally or vertically in this case will look unbalanced. 
There are a couple of other key things to note when it comes to placement in a room. First off, there is the general rule of thumb of having an area rug extend at a minimum of 18 to 24 inches from the sides and foot of a queen or king-sized bed.
It's also important to be sure that your rug does not extend too close to the walls– this is a sure sign that your rug is either too large for the room, or not placed correctly beneath the bed. Area rugs should not push up against any large pieces of furniture, either.
However, this is a different case if the furniture is placed on top of the rug and fits nicely there, an example being bedside nightstands on top of a larger rug. You should have either chosen a rug large enough to go underneath these furniture pieces, or one small enough to leave a few inches of bare floor between the rug and piece of furniture. 
Caring For Your Rug
Proper rug care is important to the longevity of any rug you select. Depending on the style, texture, quality, and material of your chosen rug, care directions may differ. Therefore, it is important for you to do the proper research on what you are purchasing and whether or not it is a good fit for your home.
For example, a light-coloured or shaggy area rug may not be the best fit for a home with either children or pets– or both! A choice like this could make it so that you are out at the store again, shopping for a new rug, much quicker than if you had made the smart choice, to begin with.
When you have an area rug under the bed and potentially under other furniture as well, you may still experience bunching up at the edges.
This is neither pretty nor safe, as it can present a tripping hazard. One of the ways you can easily combat this is by utilizing double-sided carpet tape. Alternatively, you could use a non-slip rug mat and put it underneath the carpet. 
The weight of the furniture will also create indents and marks in your carpet over time. Certain maintenance methods can help you to avoid this, such as turning the rug every once in a while and removing these dents with an ice cube treatment.
For this, you let an ice cube melt on the indentation and then fluff the fibers with your fingers. 
What Size Rug do I need for My Bedroom FAQ
How Much Space Should an Area Rug Cover in The Bedroom?
The general rule of thumb is that there should be 18 inches of floor space between the rug and the wall. It really does depend however on how big your actual room is and what kind of bed you have in it. for most master bedrooms we are talking about a queen bed or a king bed.
You then need to match your bed with the right rug size while still maintaining some exposed floor between the rug and the wall.
The room will look bigger (if your room is on the smaller side) if you can see the floor between the rug and the wall.
The rug size needs to fit within the room, and the bedroom rug placement needs to work with the bed, opening and closing closets and bedroom doors, and of course not covering the heat vents. You bedroom rug has a lot of factors that go into it.