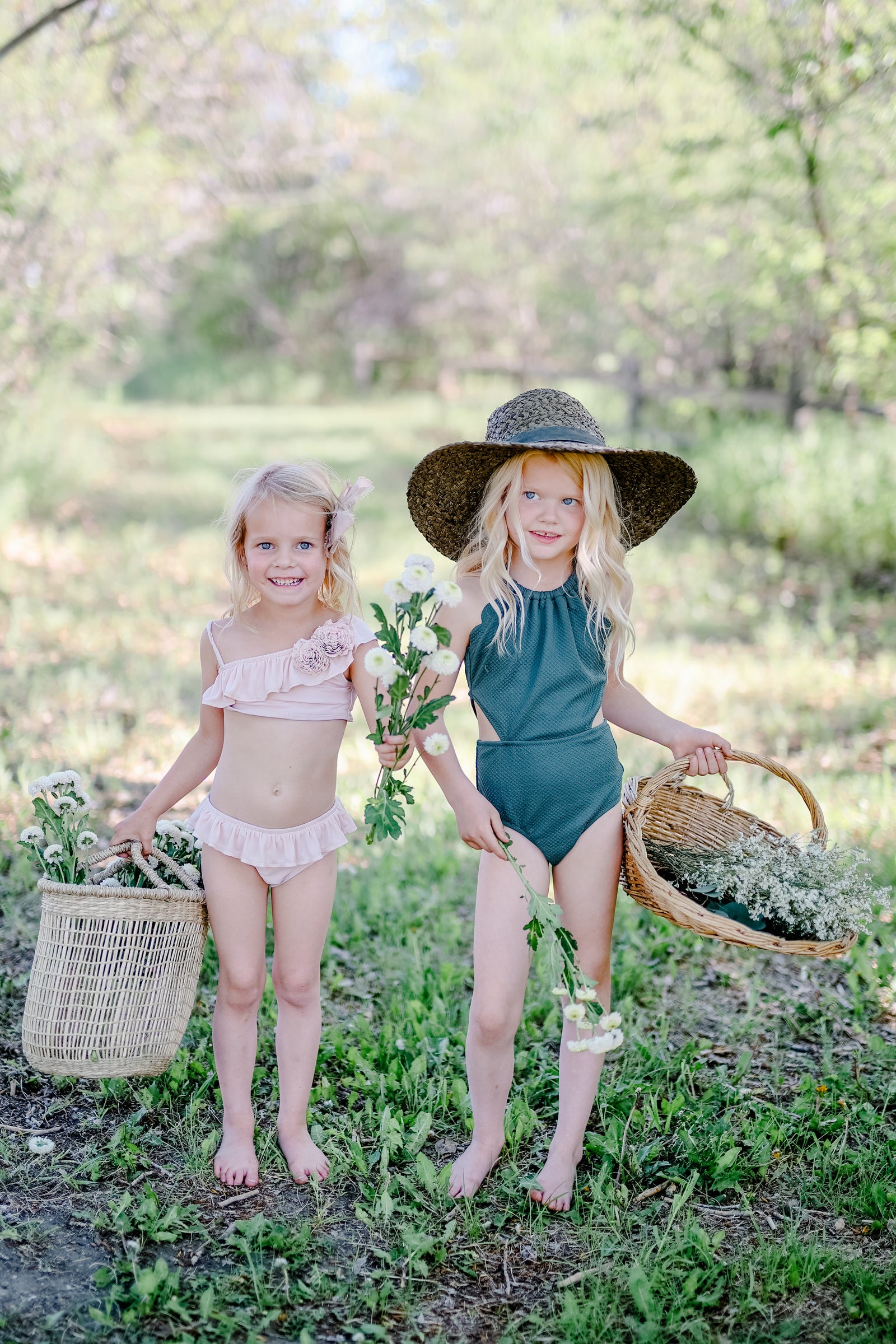 We had so much fun planning and photographing our Summer products. Our goal was to show you a variety of ways you can use some of our products as many of the items can serve multiple purposes. I've tried to include as many links as I can in case you are interested. We also have a great recipe at the end, so make sure to scroll to the end :) 
Ivory's dress is from Simply Adored and the bow can be found in our shop 
My white dress is from Winners, but you can shop a similar one from Oak + Fort
The basket is from our woven basket set
The Primrose tote is one of my favourite products, and it's so practical for summer activities. Below I have it stuffed with our incredibly soft Striped Turkish Towel. I have tried this out on the beach, and it's perfection. The sand brushes off so easy, and it's dries really quickly. You will see the towel in quite a few photos. 
Scarlett's bathing suit is from Old Navy, they are sold out of this colour, but they still have other colours available. Bonus, it's on sale right now!!
Jackie of Florescence helped us dream up this Garden Caddy, it's a limited time only piece. It's the perfect gift for the gardener  in your life. Kittens not included :)
I am so in love with the treehouse Jamie built for the kids. They spend so much time in there. Lincoln had his last birthday party in the treehouse. 
I am so happy with how our Solstice chairs turned out. We wanted to put pretty twist on a traditional Adirondack chair. 
Our Solstice coffee table is oversized, and perfect for group gatherings. We are also getting a ton of use out of our new Heritage Drink Caddy, great for kids and adults. 
Our limited edition Willa Tray is one of my favs because it is practical. It's so light and easy to carry in and out from the house.  This glass pitcher is so pretty it feels like a work of art. 
The woven baskets work great for storing blankets, and even to put a flower pot in. Our Haven's are great for outdoors too. 
I was so excited to design this new smaller Ash Charcuterie Board. The rustic edge, is so gorgeous. I always love when I can incorporate our stunning gold leaf tongs. 
I adore these brass lanterns, they add some depth and ambience. They can be used inside or outside. 
We designed this Harvest table last year (pictured in Briarwood), and it's still just as beautiful as ever. This year we added a Harvest bench. Pictured above you can also see our Sandstone Vase, our Heritage cake stand, and our ivory cloth napkins. The chairs are from Wayfair. 
Sienna's skirt and Scarlett's dress in these picnic shots are from Zara. Ivory's skirt is from Little's & Spice it's one of my all time favourite pieces, because it's timeless and fits the girls for a long time. Sienna's hat is from My Girlfriends Closet YYC . 
PHOTOSHOOT TEAM:
Lead Photographer and creative consultant - Kristy-Anne Swart
Coordinator and design assistant - Florescence 
Creative Director and Design Lead - Karina Hiller
Videographer - Ranelle Sholter