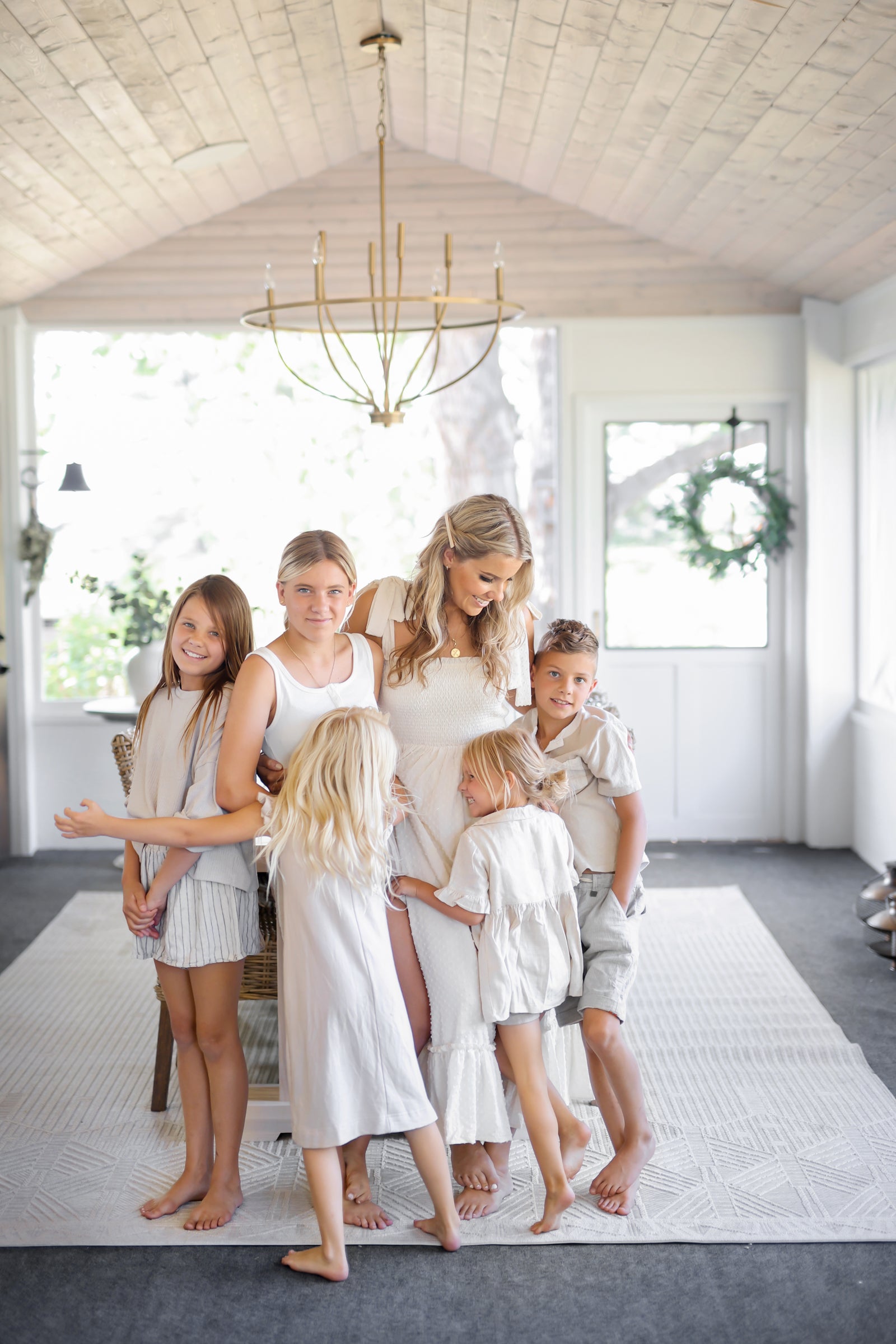 This spring summer we have spent a lot of time renovating the outside areas of our house. The front of the house is still in progress, but the screen room is all pretty much complete, so I wanted to share with you the full reveal! I couldn't be more pleased with how it turned out. We live in this space, and I can't wait to host some gatherings in this space. Who wants to come over?
 As I was designing the space, I was a bit nervous if all the tones would work together. In the end, I couldn't be more pleased. I especially love how the London fog stained pieces look on the ceiling. Such a soft muted tone. Our in-house designer Cory, put together two mood boards for the spaces which I have included at the bottom of this post. There are links to all of the shown Primrose pieces and we also included links for as many of the other products shown. We hope that will help you get inspired for your own spaces! Did you know we can make custom mood boards for your own spaces?
My dress is from a gorgeous new store in Chinook called The Latest Scoop. Scarlett's dress is from one of our fav local shops Todays Modern Bebe. Ivory's adorable linen top is from Simply Adored. 
 MOOD BOARD AND LINKS FOR THE DINING AREA:
1. Wicker Side Chairs x 10
2. Aged Brass Chandelier - Centred over dining table 
3. James Edward Dining Table 12' - White Ash - floating in front of French doors
4. Indoor/Outdoor Rug 8'9" x 12'5" - centred under dining table
5. Annie's Sideboard - White Ash - placed to the left of the French doors
6. Gold mirror - leaning and centred above sideboard 
7. Matte Black Wall Lantern - one on each side of the doors 
8. Heritage side table - placed in the corner to the right of the French doors
Recommended Finishing Touches (Not pictured on moodboard):
Glass Lamps - displayed on Annie's Sideboard
Heritage Cake Stand - 10" x 9.25" - washed stone
White Sandstone Vase - On the dining table
Prairie Candle Holders -rustic barnwood
 MOOD BOARD AND LINKS FOR THE LOUNGE  AREA:
1. Jolie end table shown in honey - placed beside the sectional 
2. Gold chandelier  centered over rug and coffee table (not installed yet)
4.Wicker sectional   placed in front left hand corner of room 
5. Jolie coffee table  shown in honey- centred below chandelier 
6. Braided indoor/outdoor rug - Ivory 5' round
7. Heritage blanket ladder shown in london fog- leaning against wall to the left of the sideboard
Recommended finishing touches (not pictured on mood board):
I hope all of this was helpful! Hope you are enjoying your summer so far! Let me know what you think of our renovation! 
Photos by: Kristy-Anne Swart